Biography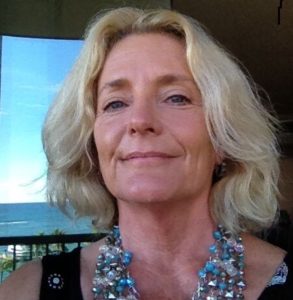 I was born in North Platte, Nebraska on one of the hottest days on record in June in 1952. Four weeks premature and afflicted with a serious lung disease, I screamed my way into life, according to my mother. My dad was in the car business, so we moved around a lot — North Platte, Salt Lake City, and Denver— settling for the longest stretch in Nebraska City. From there we moved for a brief time to Omaha. In 1968, during my 11th grade in high school, we moved to La Jolla, California. In Omaha, I had played the flute in the orchestra, was on the drill team, wore my skirts to my knees, curled my hair and put on makeup every day — as any proper Midwestern girl would do.
Arriving in one of the most exclusive beach towns in California in 1968 was like being dropped in from Mars.
A few months later my parents divorced. My mother moved thirty miles away with my two younger sisters and my brother. I moved in with my dad, who had an apartment in La Lolla, but he split shortly thereafter to Mexico.
I was 16, on my own and had to go to work to support myself.
I landed a job at a publishing company called Pollution Abstracts (little did I know they were on the forefront of the "green movement"). Did a stint at a Ski Chalet, where I was fired for "distracting the boys." If only I knew then what I know now. I left there for a just launched, Psychology Today Magazine, where I remained in various capacities until I was 35. After that, I was co-founder and president of an $8 million educational and training film company, president of a commercial film production company and later founded Workplace Publishing, a training and development product company. In my late 50s, I went back to school to study journalism and got a job at the San Diego Business Journal as a researcher and editor and later senior editor and columnist. I am now a semi-retired contributing writer for the business journal where I write a luxury real estate column and a column on San Diego's philanthropy and charity scene.
The purpose of my blog is to weave my varied career experiences into a new tapestry and write about matters that are important to me — whenever I feel like it.